Savoirs et pratiques du Moyen Âge à l'époque contemporaine (SAPRAT) - École Pratique des Hautes Études (EPHE-PSL)
EA 4116 - École Pratique des Hautes Études, PSL
Director
Brigitte Mondrain
Contact person for Biblissima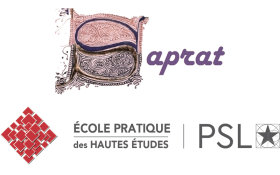 SAPRAT, a partner of Biblissima, sees the development of two important programs for Biblissima+:
Multipal, the fruit of the work of the Group for Transversal Research in Paleography (GRTP: EPHE, ENC, Collège de France),
and e-Signa, a portal for medieval emblems, which pools data (coats of arms, crests, mottos, signatures) from databases and corpora of medieval sources listing these signs and their media: seals, monuments, stained glass, manuscripts, etc. (drawing on DEVISE, SIGILLA, ARMMA, COLLECTA, RCPPM, BIBALE, Corpus Vitrearum, etc.).