Chartres: Summer Course (2013)
Chartres: Summer Course (2013)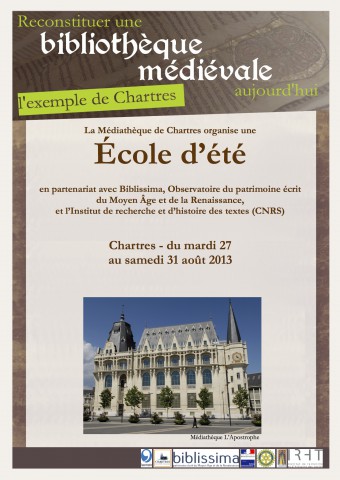 Programme
Tuesday 27th August: Writing the History of Medieval Libraries
9:00-9:30: Welcome
9:30-12:30: Anne-Marie Turcan-Verkerk: Les collections de livres du Ve au XVe siècle - break - Faire l'histoire des bibliothèques anciennes aujourd'hui.
2:30-6:00: Claudia Rabel: Le projet « Renaissance virtuelle des manuscrits sinistrés de Chartres ». - break - Poster session (each student will prepare a poster presenting their current or future research topics and speak about it with those who are interested; minimum A3 paper format).
Wednesday 28th August: Texts and their Diffusion
9:30-12:30: Dominique Poirel: La circulation des œuvres au Moyen Âge - break - La place de Chartres dans l'histoire des textes.
2:30-6:00: Travaux pratiques: initiation à la notice de manuscrit et à l'identification des textes.
Thursday 29th August: Early Inventories
9:30-12:30: Hanno Wijsman – Emmanuelle Kuhry: Les inventaires anciens et leur traitement. - break - Anne-Marie Turcan-Verkerk: aperçu sur les inventaires anciens de Chartres.
2:30-6:00: Travaux pratiques : éditer les inventaires anciens.
Friday 30th August: Reconstructing a Historical Collection
9:30-12:30: Patricia Stirnemann: De l'importance de croiser les sources de toute nature : l'exemple de la bibliothèque de Jean de Salisbury. - break - Dater et localiser les manuscrits : le décor chartrain.
2:30-6:00: Travaux pratiques : édition électronique des inventaires anciens et base de données sur les collections de livres manuscrits.
Saturday 31st August: A Virtual Library of Chartres: the Heptateuchon
9:30-12:30: Irene Caiazzo: Thierry de Chartres et son Heptateuchon.
Visite de Saint-Père.