Grand équipement documentaire (GED), EPCC Campus Condorcet
Ministère de l'Enseignement supérieur, de la Recherche et de l'Innovation
Director
Stéphanie Groudiev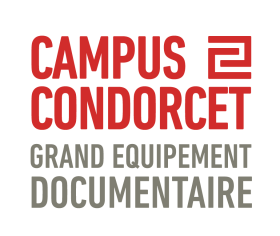 More than 50 libraries, document collections and archive services contribute their collections to the "Grand équipement documentaire" of the Campus Condorcet. Currently dispersed over 25 sites in the Île-de-France region, these collections (including those of the EHESS, EPHE-PSL and IRHT) comprise one million documents: mainly books and journals, but also archives, photographs, films, maps, and sound recordings, in physical or digital form.
Based on the most innovative experiments, particularly digital, the GED is designed as a shared laboratory for research in the humanities and social sciences. It is the point of convergence between disciplines, students and researchers. It will offer a set of services at the heart of which is free access to material and digitised documentation, as well as one based on digital humanities.
In Biblissima+, the GED plays an essential role through its positioning at the crossroads of all the communities involved, both on the Campus, but also at the national level through its role in the GIS Collex-Persée and its links with major Scientific and Technical Information initiatives and national and international networks of libraries and archives.