RESCAPÉ: The digital approach to the challenge of fire. Digitizing a 14th century manuscript from the Biblioteca Nazionale Universitaria in Turin damaged by the fire of January 26, 1904.
This initiative deals with the ms. BNU L.II.14 of Turin dated 1311 (= T, old g.II.13, see Biblissima+ page), damaged during the fire of the National Library of Turin in 1904.
The main output consist of restoring the original physical unity of the manuscript affected by the fire as well as by a subdivision into four volumes, and also to restore the process of selection composed of sacred texts "sanctifying" epic cycles skilfully welded together by several unica. This challenge, particularly difficult due to the importance of the whole (583 preserved folios), its degraded state and gaps, will be met by mobilizing digital methods and tools: image processing (restoration of damaged parts), HTR, lemmatization, stylometry, scriptometry.
The project aims to recompose, as much as possible, the physical, linguistic and thematic unity of T, in order to:
Highlight the extreme coherence of the selected texts which contributed to the genesis of the literary cycle, to its subsequent success and to the redefinition of the medieval French epic.
Return the results of this treatment to Biblissima+ at the end of the programme.
Make these results available to the library.
Scientific coordinator for National Library of Turin : Marco Maulu (Università degli Studi di Sassari)
Useful links: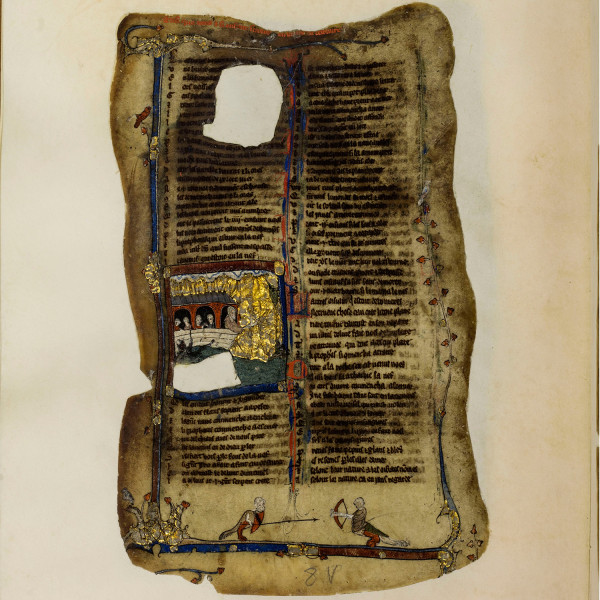 Source : Biblioteca Nazionale Universitaria di Torino, L.II.14